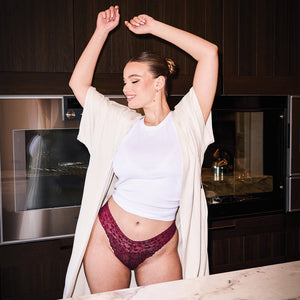 Refer friends
Introduce a friend to Lace Laboratory and they'll get a 100 SEK discount when they spend 200 SEK.
GET free panties
In return, you get 4000 points (200SEK) to use on a free Lace Thong or towards a Brazilian or High Waist Thong.
And FYI, there's no limit to the number of referrals you can make. Refer them all then sit back and enjoy as it rains free panties.
Your points will show on your account seven days after your friend has completed their order. This offer can only be redeemed by new Lace Laboratory customers.
Why Lace Laboratory?
150% stretch
Adapts to body shape and size without rolling down
V-shaped
V-shaped waistband that flatters every body shape
Crowdsourced
Developed with our community in The Laboratory